In 1972, non-electric version of the series 591 high speed test car for conventional lines was built. In those days a car body tilting system had difficulties around the propeller shaft transmission and kiha 391 devised the train formation to avoid this problem. It consisted of 1 motive car without tilt mechanism and 2 car bodies were mounted on both end of this motive car. 3 car bodies and 4 trucks formation was semi-articulated style. The central motive car is short in length and had no passenger space. Only one 1050 horse power gas turbine and one diesel generator set were mounted on there.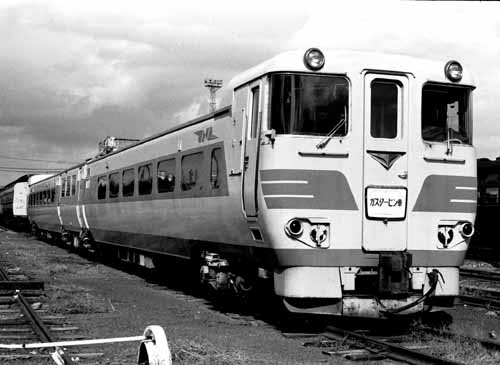 The car body mounted on the both end of the motive car was separated from trucks sustained by the center frame connecting with each truck.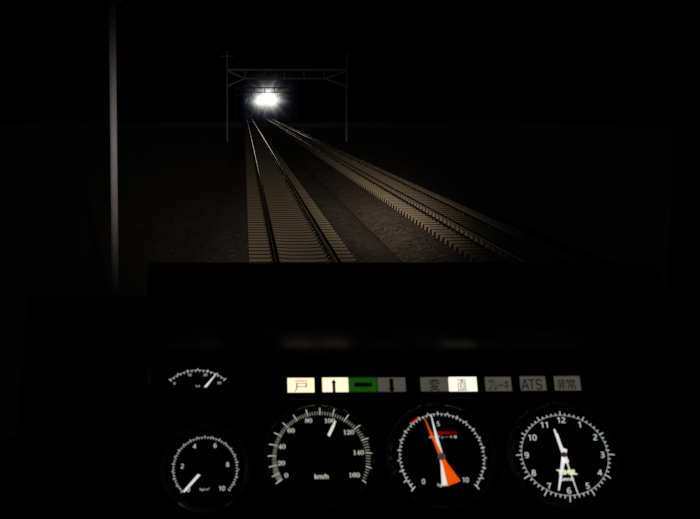 The cab was designed similar to that of kiha 181 and kumoha 591, black painted and suggestive of an airplane cockpit. The designed speed was 130 km/h, playful mind like 150 km/h was suppressed. But the scale of the speed meter on the cab was caved up to 160 km/h, just same as series 591 and other limited express
JNR did not have hydraulic converters to treat this range of the output power and to avoid the high cost of developing such converters, single speed direct drive mechanism was adopted.
Two shaft gas turbines have a high torque at low speeds and a single speed drive is available.
But the acceleration at a starting or low speeds is somewhat weak in comparison with DMUs.
The direct drive mechanism reduced the train weight about 2 to 3 tons and the total mass of this formation was about 69.5 ton in the operating condition.
This value was very small in comparison with comparable EMUs and DMUs in those days. Its axle load was 8 to 10 tons, 1 to 2 tons lighter than series 591 tilting EMU.
The performance of this train was even better than series 2000 or series 281 class DMUs lately built. The power (at wheel rim) weight ratio, the most accurate value to evaluate the train performance, was nearly 12 horse power, 1 horse power superor to series 281.
May be due to a prototype, there might have been corner cutting at it's designing and the appearance was not cool. But from the technical point of view, this railcar was one of the most innovative car in the history of Japanese railcar.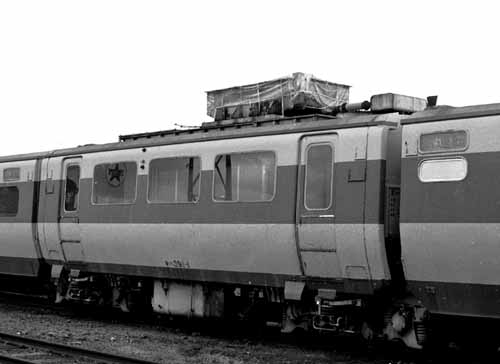 The train was put into trial runs on Kawagoe line in spring of 1972. After this, it was moved to Hakubi line, Sanin line, Sanyo line and speed up of 25 km/h through curves, 130 km/h cruising, passing through a straight side of turnout with a speed of 130 km/h, noise measurement, speed trial and other tests were performed. During these trial runs some defects of this system was revealed.
Concerning with gas turbines, it turned out that the stall noise while starting train was severely high, an engine stall occurred while starting in tunnel with high notch position reabsorbing its own exhaust gases, unexpected long delay of the engine response. And other problems like a poor performance of anti-lock braking system and a clutch damage were also revealed.
Some improvements were done during these tests.
To avoid an engine stall in tunnels, the exhaust gas guide plate was mounted on the roof of the motive car. The improvement of the fuel control system, the lag time of the engine response was shortened to 4 seconds from 13 seconds. To avoid the clutch failure, the clutch itself was removed and the output shaft from the reduction gear was directly coupled to the propeller shaft. After these improvements, the car was moved to Tazawako line in winter of 1973 and the snow proof capability was tested and gathered data for the mass production.
If the oil crisis had not happened?
Or if it had happened more later times, mass production of turbine powered railcar might have began and put into commercial service.
First the train would be put into operation in Hakubi line, and next candidates were Kisei line and Tazawako line. If commercially succeeded in these routes, Yosan line, Dosan line and some routes in Hokkaido area might be good candidates for the turbine service.
In Hakubi line, the journey time from Okayama to Yonago was estimated at 2 hour 10 minutes without turnout improvement, 2 hour with turnout improvement.
Over ten years later, this shortening was achieved by series 381 EMUs with tilt system. In 1990s or later, many tilt trains spread over Japan and reduced journey time. But it was too late to upset the superiority of automobiles because highways had also widely extended.